Congratulations to tonight's champions Eileen Keaney and Fr. Hugh McGonagle – leading from the start with a fantastic display of bidding and card play skill – Fr. Hugh has finally found his 'MoJo' having returned to the game after a 20 year break and having to unlearn all the 'tips' he learned from his Connolly friends in the midlands.
Next Thursday Night's Improver Class will be the last before Christmas and will be a practical night dealing with various examples of declarer play and defence – All Welcome.
**************************************
MITCHELL  SISTER  FUND
Pictured below is Mary Lyons and Tommy Banks (Phoenix Bridge Club) presenting donation cheque to Kathleen Mitchell (mother of Mairead and Aoibheann) and her sister-in-law Claire.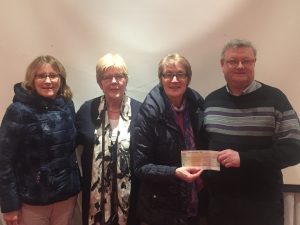 *****************
We are sorry to hear of the death of one of our earlier members Dorothy O'Grady – May her gentle soul Rest in Peace.
******************
Our Annual Individual Championship takes place this coming Monday night 11th December. 
Our Christmas Game takes place this coming Wednesday 13th December – Please give your names to Mary Lyons, Eva Giblin, Gladys or Mairead.
There will be a game this coming Monday night 18th December – Turkey and Ham Prizes.  We will also have the last game of the year on Wednesday week 20th December.
********************