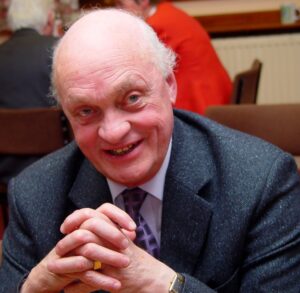 It is with much sadness that we report the recent passing of Patrick J (Paddy) Murphy, long-time member and former President (1981-1982) of the Tribes Bridge Club in Galway. Paddy was a core element of the Galway Bridge community for a very long time. He loved the game and was an active member of several city clubs down through the years, playing with a variety of partners. He joined the Tribes Bridge Club in its infancy and remained a stalwart supporter until his passing. He was one of the game's true gentlemen and he was especially welcoming of new and visiting players to the Galway bridge scene.  He was elected President for the 1981-1982 season. Paddy was a very competent player and won four club championships, three since the turn of the century. He won his first title, The Geraldine O'Flynn T/4, in 1987-1988 with partner Clare Burke and team-mates Marie Silke & Mary Bane-Curran. He picked up his second title in 2003-2004 when he won the Dr. Sean Mulhern Trophy with Miriam Moloney. He repeated his earlier success in the Geraldine O'Flynn T/4 by winning it again in 2008-2009 with regular partner Miriam Moloney and team-mates Maurice Hession and Rory Timlin. The same quartet subsequently won the Club T/4 Championship in the 2011-2012 season.
Undoubtedly one of his most famous successes took place at the 1980 Ballina Congress when Paddy captained his three female team-mates to victory in the Congress Team of Four Championship. The October issue of the Irish Bridge Journal featured a lovely photo of the winners on the front cover.
With thanks to Paul Scannell for this Appreciation.
*****
BBO News – Entry Fee 3 BB$
The good news is that from Wednesday, 1st July, there will be plenty of room for all who want to join in any of our games so there will be no need to rush home early to register – because BBO will be lifting their limit on the size of our events – but the bad news is that in order to get this limit lifted, there will be an entry fee of 3 BB$ per person for these events – starting Wednesday 1st July.  And because we are paying for our games BBO will also allow us start a little earlier – so we will be starting our games at 8.30 pm as and from tonight.  It will also mean that you will be able to win some nice 'shiny' BBO masterpoints.  Registration opens from 6.30 p.m.
************
You will find us under 'Competitive' – 'All Tournaments' – and then in the 'search box' type in any of the following words: Sligo,  ansuid,  CBAI125476.
****
Monday 6th July – Sligo and Friends at 8.30 pm
Tuesday 7th July – Intermediate Team of Four (5×4 boards – 3 BB$ per person) starting at 8.00 pm and finishing at 10.20 p.m. (registration for teams will be open from 5 O'Clock) and you will find us in 'Competitive' – 'All Tournaments' – search for host 'ansuid'  Guide to Registering your Intermediate Team June 2020
There is also a Master Team of Four (5×5 boards – 4 BB$ per person) 7.15 pm to 10.15 pm – search for host 'Diumraid'
Also on Tuesday 7th July: – If you prefer a pairs game (3 BB$) – there are 2 games available at 7.30 one for 'Novices and Inter B' and a second one for 'Intermediate A' players…search for Ansuid, Diumraid, Sligo, CBAI.
Wednesday 8th July – Sligo and Friends at 8.30 pm
Thursday 9th July – 23rd Irish Intermediate Pairs Championship at 8.30 p.m.
Friday 10th July – Sligo and Friends at 8.30 pm – Fast Friday Game – 6 minutes per board.
********
Sligo and Friends – Friday 3rd July 2020 (36 tables)
Congratulations to John Macdonald and Frank Goodwin (Sligo) …'We have arrived'
Commentary on the Hands (Graham Osbourne)
******
22nd Irish Intermediate Pairs Championship – Thursday 2nd July 2020 (34 tables)
Congratulations to Margaret Keeney and Anne Murray (Donegal)
Commentary on the Hands (Paul Bowyer)
*******
Sligo and Friends – Wednesday 1st July 2020 (40 tables)
Congratulations to Finola Higgins and Tom McIntyre (Fermanagh) – Ulster take 5 of the top 7 prizes)
Commentary on the Hands (John Williams)
******
5th Intermediate Swiss Teams – Tuesday 30th June 2020 (12 Teams)
Congratulations to Clare Doyle, Ann Nolan, Edie Brosnan and Jerimiah Moynihan (Wexford)
Intermediate Teams Final Leaderboard
Commentary on the Intermediate Teams hands (We started with board 17 – Heather Dhondy)
*********
Inter 'A' Pairs Tuesday 30th June 2020 (11 Tables)
Congratulations to Michael and Marie Connolly
Full Leaderboard Intermediate A Pairs
Full detailed Result (Inter A Pairs)
Commentary on the Inte A Pairs hands (We started with board 17 – Heather Dhondy)
*******
Intermediate B Pairs Tuesday 30th June 2020 (17 Tables)
Full detailed Result (Inter B Pairs)
********
Master Teams Final Leaderboard (24 Teams)
********
Sligo and Friends – Monday 29th June 2020 (38 tables)
Congratulations to Máire O'Keeffe and Luca Crone (I told you to keep an eye on this pair)
Commentary on the Hands (we started with board 17 – Julian Pottage)
******
Sligo and Friends – Friday 26th June 2020 (40 tables)
Congratulations to Finola Higgins and Tom McIntyre (Fermanagh – Ulster wins the top 4 prizes)
Commentary on the Hands (we started with board 17 – John Williams)
******
21st Irish Intermediate Pairs Championship – Thursday 25th June 2020 (35 tables)
Congratulations to Deirdre Lonergan and Catherine Carabine (The KitKat Twins from Dublin)
Commentary on the Hands (we started with board number 17 – Sally Brock)
*******
Sligo and Friends – Wednesday 24th June 2020 (44 tables)
Commentary on the Hands (Sally Brock)
RED Section (25 Tables):  Congratulations to Gladys Sheridan and Jim O'Malley (Sligo)
******
BLUE Section (19 Tables):  Congratulations to Marion and Jimmy Gallagher (Late Father's Day Present)
*****
Full OVERALL Leaderboard (Congratulations to Marion and Jimmy Gallagher – Donegal)
*******
4th Intermediate Swiss Teams – Tuesday 23rd June 2020 (18 Teams)
Congratulations to Catherine Carabine, Deirdre Lonergan, Noel Hughes and Noel Murphy (Dublin)
Intermediate Teams Final Leaderboard
Commentary on the Intermediate A Pairs hands (John Williams)
*********
Inter 'A' Pairs Tuesday 23rd June 2020 (6 Tables)
Congratulations to Rosina and Gillian Berwick (Wexford)
Full Leaderboard Intermediate A Pairs
Full detailed Result (Inter A Pairs)
Commentary on the Intermediate A Pairs hands (John Williams)
*******
Master Teams Final Leaderboard (28 Teams)
********
Intermediate B Pairs Tuesday 23rd June 2020 (14 Tables)
Full detailed Result (Inter B Pairs)
********
Sligo and Friends – Monday 22nd June 2020 (38 tables)
Congratulations to Ann and Stephen Cairns (Enniskillen)
Commentary on the Hands (Heather Dhondy)
*******
Sligo and Friends – Friday 19th June 2020 (39 tables)
Congratulations to Anne Murray and Margaret Keeney (Donegal) – Ulster claims the top 4 places
Commentary on the Hands (Julian Pottage)
*******
20th Irish Intermediate Pairs Championship – Thursday 18th June 2020 (39 tables)
Congratulations to Elizabeth Hall and Anne O'Brien (Drogheda)
Commentary on the Hands (we started with board number 17 – Heather Dhondy)
*******
Sligo and Friends – Wednesday 17th June 2020 (39 tables) Section A
Congratulations to Ann Healy and Clive Robinson
Commentary on the Hands (Heather Dhondy)
*******
Congratulations to Ann Kennelly and Margaret Kirwan (Tullow)
Commentary on the Hands (Heather Dhondy)
*******
3rd Intermediate Swiss Teams – Tuesday 16th June 2020 (14 Teams)
Congratulations to Elizabeth Whelan, Miriam Geraghty, Patricia McCormack and David Cope (Wexford and Carlow)
Intermediate Teams Final Leaderboard
Master Teams Final Leaderboard
********
Sligo and Friends – Monday 15th June 2020 (40 tables)
Congratulations to Ann and Stephen Cairns (Enniskillen)
Commentary on the Hands (Brian Senior – we started with board 17)
*******
Sligo and Friends – Friday 12th June 2020 (39 tables)
Congratulations to Grace Gallagher and Shaun Coll (Donegal claim the top two places yet again)
*******