Tuesday 21st September – There are 3 games available at 7.30 one for 'Novices', one for 'Inter B' and a third one for 'Intermediate A' players…search for sligo, diumraid, ansuid.  
Also on Tuesday 21st September we have our 12 board 'Individual' competition at 9 O'Clock playing 'Acol' weak no-trump, 4 card majors, stayman, red suit transfers, blackwood, natural signals and discards – all welcome.
Wednesday 22nd September – Sligo and Friends at 8.30 pm – Open – All Welcome
Thursday 23rd September – 84th Irish Intermediate Pairs Championship at 8.30 pm – All Welcome
Friday 24th Sepember – 'Sligo and Friends' Fast Friday Game  – 6 minutes per board – starting at 8.30 p.m – All Welcome
Monday 27th September – 'Sligo and Friends' starting at 8.30 pm – All Welcome. 
**********
Face-to-Face Bridge Congress – Yeats Country Congress 10th to 12th June next – book your rooms now (Radisson-Blu Hotel 071-9140008)
 ************
Sligo and Friends – Monday 20th September 2021 (28 Tables)
CBAI Lady Milne Trials  (17th and 18th September)
Congratulations to the winners Lucy Phelan, Dolores Gilliland, Carol-Ann Cummins, Sandra Newell, Ann O'Connell and Valarie Burke-Moran.
********
Sligo and Friends – Fast Friday 17th September 2021 (27 Tables)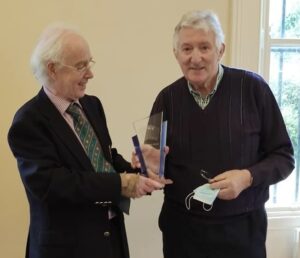 Danny Liddy from Ennis being presented with the President's Award by President Elect Gordon Lessells – the President's Award is presented to players who have given distinguished service to the Bridge Community over a number of years.  Well deserved Danny.
********
83rd Irish Intermediate Pairs Championship – Thursday 16th September 2021 (24 Tables)
Sligo and Friends – Wednesday 15th September 2021 (21 Tables)
Inter 'A' Pairs Tuesday 14th September 2021 (16 Tables)
Sligo and Friends – Monday 13th September 2021 (28 Tables)
NIBU Autumn Congress  (10th – 12th September 2021)
Congress Teams (22 Teams) B.J. O'Brien, Dan McIntosh, Adrian Thomas and Mike Pownall (Dublin, Jersey and Wales)
Open Pairs (4 Tables) Matthew O'Farrell and Luca Crone (Dublin)
Mixed Pairs (13 Tables) Siobhán Part and B.J. O'Brien (Kildare & Dublin)
Congress Pairs (10 Tables) – Isobel and Jim Brown (Scotland)
Intermediate Pairs (6 Tables) – Diana Patterson and Geraldine Henry
***********
Sligo and Friends – Fast Friday 10th September 2021 (26 Tables)
82nd Irish Intermediate Pairs Championship – Thursday 9th September 2021 (20 Tables)
Sligo and Friends – Wednesday 8th September 2021 (25 Tables)
Inter 'A' Pairs Tuesday 7th September 2021 (14 Tables)
Sligo and Friends – Monday 6th September 2021 (26 Tables)
North Kerry Congress  (3rd to 5th September)
Mixed Pairs (5 Tables)          Congress Pairs (4 tables)          Congress Teams (6 teams)
Fri Inter 'B' and Novice (8 Tables)          Sat afternoon Open Pairs (4 Tables)          Sat Night Open Pairs (6 Tables)
Sun Night Open Pairs (4 tables)          Sun Inter 'B' and Novice (7 tables)
*********
Sligo and Friends – Friday 3rd September 2021 (26 Tables)
81st Irish Intermediate Pairs Championship – Thursday 2nd September 2021 (25 Tables)
Sligo and Friends – Wednesday 1st September 2021 (23 Tables)