The CBAI will be adopting the new 'World Bridge Federation Laws of Bridge' as and from September 1st this year.  As there are a few significant changes, FOB will hold the first of his updates for Tournament Directors this coming Saturday 27th May in Templeogue Bridge Centre (12 noon to 4 pm).  This will be a most valuable opportunity to have the new changes explained as well as affording you the opportunity to have some of the existing laws clarified.  If you would like to attend then please email info@cbai.ie or phone 01-4929666.  All welcome.  Very few places left…..
For those who can't wait til then.
Pa O'Flaherty RIP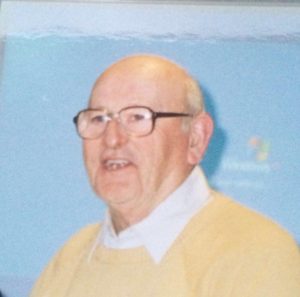 We are deeply saddened to hear of the passing the affable and extremely popular Pa O'Flaherty.  In his heyday, Pa was 'Mr. Bridge' in Ireland, being involved at Club, Regional and National Level.  Bridge as we know it today, owes a tremendous amount of gratitude to the unselfish dedication and hard work of Pa.   His skills as a Tournament Director are legendary, and we in the current crop will never experience the charisma, popularity, love and respect that he earned from his players.  He taught us that it was possible to be efficient and in control while still ensuring that the players enjoyed their game.  He had that wonderful elusive skill of being able to penalise you in such a way that you actually enjoyed it.   Despite his 91 years, Pa embraced computers and modern technology with open arms and was among one of the first computer scorers in the country.  His subtle contributions to fostering good relations between the NIBU and the CBAI may never receive the wide acknowledgement that they deserve.  On a personal note, I was privileged to have had many occasions to work alongside my mentor 'Pa' in my early years.
We extend our deepest sympathies to his daughters Deirdre and Grania and their families.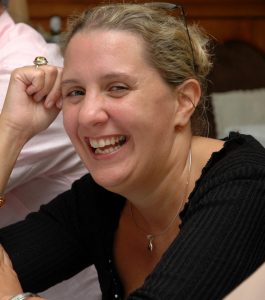 It is with great sadness that we report the sudden death of our dear friend Ciara Burns.  Everyone loved Ciara.  As well as being one of the top bridge players in Ireland, Ciara also possessed that rare gift of being down to earth and friendly as well.  Her bubbly, cheerful disposition was infectious and we were all taken by the fact someone so nice could also be so good.  Despite her very young age, Ciara was a multiple winner of most major national titles and also played at international level representing Northern Ireland in the Lady Milne and also in the Camrose Championships.  She was also selected to represent Ireland to play in the European Championships on three occasions.
Ciara, as well as reaching the top of her game, was also very generous with her time, being willing to help up and coming players and also prepared to get involved in the administration of the game, culminating in her becoming President of the Irish Bridge Union.  Ciara will by now have met up with the two people she missed so much – her father Hugh and her best friend Mary Finn.  
We will all miss Ciara and her wonderful laugh.  We extend our heartfelt sympathies to her mother Anne, brother Paul, and the rest of her family and to her broken hearted wide circle of friends.   May she rest in peace.