Congratulations to tonight's champions Eileen Keaney and Fr. Hugh McGonagle – leading from the start with a fantastic display of bidding and card play skill – Fr. Hugh has finally found his 'MoJo' having returned to the game after a 20 year break and having to unlearn all the 'tips' he learned from his Connolly friends in the midlands.
**************************************
MITCHELL  SISTER  FUND
Pictured below is Mary Lyons and Tommy Banks (Phoenix Bridge Club) presenting donation cheque to Kathleen Mitchell (mother of Mairead and Aoibheann) and her sister-in-law Claire.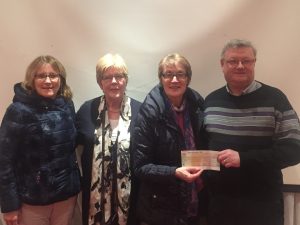 *****************
We are sorry to hear of the death of one of our earlier members Dorothy O'Grady – May her gentle soul Rest in Peace.
******************