Barbara made her debut for Ireland in 1962 and played internationally for twenty consecutive years, much of it in partnership with another Irish great, Ruth Giddings. She won two European medals, silver in Ostend in 1973 and bronze in Beirut on her debut, and won all the major national titles in a total of 23 victories. She became Ireland's first World Master in 1984.
Aside from her very obvious talent (rumour has it that when she first took up the game as a teenager, her teacher announced to the class that they were looking at a future champion), Barbara was also blessed with great tenacity and resilience. She battled a number of serious illnesses in recent years, and endured the loss of her loving husband, Don, also an international bridge player. She bore these burdens bravely and with good grace, and continued to play bridge at a very high standard, winning the five-week President's Prize in the Regent Bridge Club only last May.
Barbara was also passionate about bridge, and a great advocate for the game. Only this summer, she had the pleasure of introducing her 12-year-old granddaughter Mia to the game, and brought her along to the CBAI's junior summer camp. Hopefully another champion in the making.
All her friends in the bridge world will miss Barbara greatly, particularly those in the Regent, where she was a valued member of long-standing and served as President. We extend our sympathies to her children Max, Kerry-Anne, Kym, and Jeremy, to her nephew Adam Mesbur (another international champion), and to all her family and friends. May she rest in peace.
*********
Rita McNamara RIP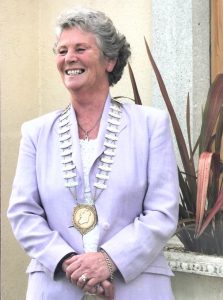 We are very sorry to hear of the passing of our dear friend Rita McNamara (Wicklow and formerly Ballaghaderreen).
Rita was a past President of both the Contract Bridge Association of Ireland and the Irish Bridge Union and without doubt she was one of the most popular Presidents ever.  As well as being a top class player, a dedicated bridge teacher and an efficient administrator she also had that most important social skill of being able to mix with people of all levels and show us that it was possible to be a great player and still have fun at the same time.   There was always laughter at her table and opponents always left in better form than when they arrived – albeit with a lower score.  Rita's contribution to the promotion of the game cannot be over-estimated.  Bridge needs more 'Ritas'.  Those of us who had privilege to know her will remember her as a kind, caring, generous and loyal friend and we will miss her terribly.  We remember her many party pieces and funny stories and her most famous party piece ended with the apt line "Well I guess we'll go home now, 'cause that was the last rubber."
We extend our deepest sympathies to her loving husband Jim, daughter Claire, sons Morgan and Michael, brothers Pat and Noel, daughters-in-law Iverna, Lale and Jill, brothers-in-law, sisters-in-law, grandchildren Daphne, Frank, Eileen, Meabh and Jane, nieces, nephews, extended family, relatives and friends.  May She Rest in Peace.
*********************