.15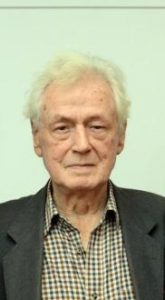 We are saddened to report the death of the well-known journalist, author, and former Irish Times bridge correspondent, George Ryan.
George will be best remembered in bridge circles for his incredibly popular pocket-sized primer on the game, "The Bones of Bridge".  This proved an invaluable resource for new students of the game, so much so that, even though it has been out of print for many years, the CBAI still receives regular enquiries as to its availability from newcomers who have been recommended it by a devotee.  A follow-up work, "Some of the Flesh" was only slightly less influential.  Aside from his journalism and bridge writing, George also wrote fiction, including a very well-admired novel, "No Time for Work".
George retired as the Irish Times bridge columnist in 2014, and in that year was awarded the CBAI President's Award, in Fearghal O'Boyle's presidency, for his life-long contribution to the game. George developed dementia at around that time, and moved to Westport to be closer to his daughter Aine and her family. Aine (also a journalist) has been writing a very moving series of articles about how George and the family have coped with the condition, which remain available on the Irish Times website.
George was pre-deceased by his son Dermot, his first wife, Mary, and second wife, Joan. He is survived by his sister, Sr. Clare Ryan, and by his daughters Aine, Breda, Clare, and Eithne, and son Gearoid. Our condolences to them and all George's extended family and friends. May he rest in peace.  (Irish Times obituary)