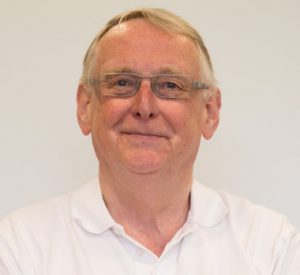 After nearly 30 years as Chief Executive of the CBAI, the young Fermanagh lad, Paul Porteous is enjoying his first week of retirement.  A Master Bridge player, an incredible organiser, an efficient administrator, a great communicator, a patient caring listener and throw in a good sense of humour and an affable personality and you have the successful ingredients to help us understand how one man was able to steer the second biggest association in the country (after the GAA) along a unified and steady path.
It has been said that he knows all 24000 of us by name and we can well believe it.  We say 'Thank You Paul' for your outstanding and generous service to Bridge in Ireland over the last 30 years and we can think of many players, tournament directors, club secretaries and regional secretaries that Paul has helped over the years with his encouragement and calmness when faced with 'delicate' situations.  Paul knew what we were thinking before the thought even entered our minds so he knew when to be 'good cop' and when to be 'bad cop'.
Irish Bridge – North, South, East and West is certainly in a better place now than it was 30 years ago – we have a better standard of player, we have well trained tournament directors, we have a great Teaching and Youth program, we have a great communication structure – and without doubt Paul Porteous has been the driving force behind these and other progressive ideas – often involving untold hours of work above and beyond the call of duty.  His many talents have also been noticed by our European friends where he is currently the Secretary of the European Bridge League.
We wish Paul, Maureen and all the Porteous family many years of Happy Retirement – Well Deserved Sir – and we wish your successor Dermot O'Brien the best of luck – Dermot is fully aware that he has a hard act to follow.
***********
85th Irish Intermediate Pairs Championship – Thursday 30th September 2021 (23 Tables)
Sligo and Friends – Wednesday September 29th 2021 (18 Tables)
Carraroe Bridge Club – Wednesday September 29th 2021 (7 Tables)
Inter 'A' Pairs Tuesday 28th September 2021 (15 Tables)
Sligo and Friends – Fast Friday 24th September 2021 (25 Tables)
Inter 'A' Pairs Tuesday 21st September 2021 (18 Tables)
Sligo and Friends – Monday 20th September 2021 (28 Tables)
CBAI Lady Milne Trials  (17th and 18th September)
Congratulations to the winners Lucy Phelan, Dolores Gilliland, Carol-Ann Cummins, Sandra Newell, Ann O'Connell and Valarie Burke-Moran.
********
Sligo and Friends – Fast Friday 17th September 2021 (27 Tables)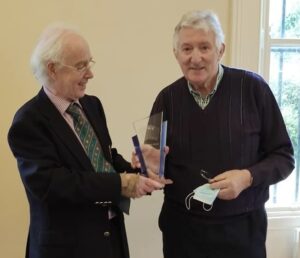 Danny Liddy from Ennis being presented with the President's Award by President Elect Gordon Lessells – the President's Award is presented to players who have given distinguished service to the Bridge Community over a number of years.  Well deserved Danny.
********
83rd Irish Intermediate Pairs Championship – Thursday 16th September 2021 (24 Tables)
Sligo and Friends – Wednesday 15th September 2021 (21 Tables)
Inter 'A' Pairs Tuesday 14th September 2021 (16 Tables)
Sligo and Friends – Monday 13th September 2021 (28 Tables)
NIBU Autumn Congress  (10th – 12th September 2021)
Congress Teams (22 Teams) B.J. O'Brien, Dan McIntosh, Adrian Thomas and Mike Pownall (Dublin, Jersey and Wales)
Open Pairs (4 Tables) Matthew O'Farrell and Luca Crone (Dublin)
Mixed Pairs (13 Tables) Siobhán Part and B.J. O'Brien (Kildare & Dublin)
Congress Pairs (10 Tables) – Isobel and Jim Brown (Scotland)
Intermediate Pairs (6 Tables) – Diana Patterson and Geraldine Henry
***********
Sligo and Friends – Fast Friday 10th September 2021 (26 Tables)
82nd Irish Intermediate Pairs Championship – Thursday 9th September 2021 (20 Tables)
Sligo and Friends – Wednesday 8th September 2021 (25 Tables)
Inter 'A' Pairs Tuesday 7th September 2021 (14 Tables)
Sligo and Friends – Monday 6th September 2021 (26 Tables)
North Kerry Congress  (3rd to 5th September)
Mixed Pairs (5 Tables)          Congress Pairs (4 tables)          Congress Teams (6 teams)
Fri Inter 'B' and Novice (8 Tables)          Sat afternoon Open Pairs (4 Tables)          Sat Night Open Pairs (6 Tables)
Sun Night Open Pairs (4 tables)          Sun Inter 'B' and Novice (7 tables)
*********
Sligo and Friends – Friday 3rd September 2021 (26 Tables)
81st Irish Intermediate Pairs Championship – Thursday 2nd September 2021 (25 Tables)
Sligo and Friends – Wednesday 1st September 2021 (23 Tables)